~国家大剧院~
Beijing National Grand Theater

A couple of nights ago Ariel and I went to see the Shanghai Philharmonic at The National Grand Theater. The building is designed by French architect Jean Andreu and was terribly controversial among natives. The locals called it the 鸟蛋, or "bird's egg," and felt it didn't fit in with the Soviet architecture and traditional palatial, stately parks that surround Tian'anmen. Still, the results defy expectations.
It's just incredibly breathtaking, especially at night. The interior is covered in dark wood slats that reach from the ceiling down and several different spaces and complexes for several performance spaces, a store and cafe. The interior even
smells
very new; kind of like expensive wood. It doesn't seem quite complete yet.
The performance itself was fine, sort of a greatest hits of Western Classical music (a lot of Brahms) performed competently. (I don't have an ear for a lot of this music, I'm afraid.) The space could honestly outshine the performances that take place inside because it's JUST that impressive. Later this and next month will be Puccini's "Turandot," which is very fitting and something Ariel really wants to see.
***On a side note, the next visitors to Beijing are getting a ticket to a revolutionary Chinese opera (or Beijing opera) on me!

~`<>`~

(Photos from

The Guardian)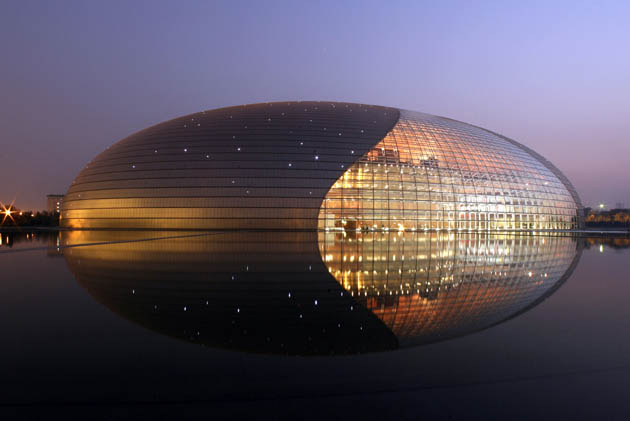 The exterior at night. It really looks this beautiful. The outside is surrounded by a shallow lake, which is ironic given Beijing's drought problems.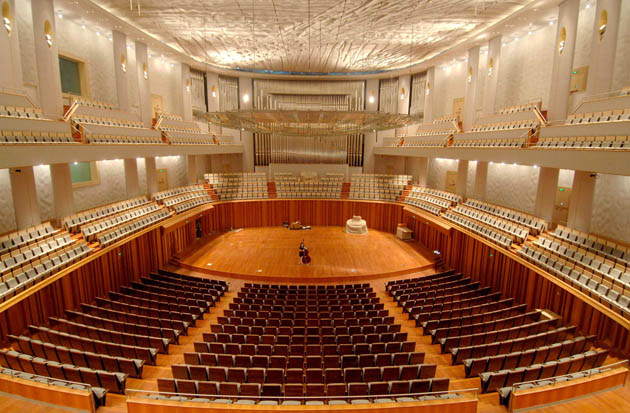 The area assigned for music performances. It had a surprisingly intimate feel. This photograph was taken near our exact seats.